NEWS
WE WILL MEET AT KOŠICE AIRPORT ON SATURDAY: KOŠICE RUNWAY RUN 2018
Pridal: Administrator, 25.04.2018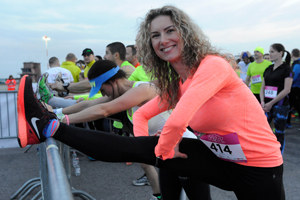 We will meet at Košice airport on Saturday, prepare a starting number and good running shoes instead of the airticket.
The Spring Running Season begins, in the East of Slovakia it officially kicks off with the prestigious KOŠICE RUNWAY RUN 2018. This Saturday, April 28th, hundreds of runners and sports lovers will meet at the runway of Košice Airport.
"This is a unique event where an international airspace is closed over Košice and people will get back to a place where they are not usually allowed due to security restrictions",
said the main organizer of the event, Marek Petráš from Radio Košice.
Only in Košice and for the third time have runners the ability to "fly" on a landing and take-off runway as it's the only run of its kind in Slovakia. All registered athletes will be traditionally delighted not only with a good feeling but also with another medal in their collection, again in the original design. Also at the presentation, every runner will choose their technical T-shirt and starting set, in which they will find a voucher worth 20 € * for air services. It can be used as a discount of the total price of the order, by entering the unique code from the voucher during the reservation of the ticket at www.tripex.sk Runners can also choose this year the route of 5 or 10km.
IT WAS THOUGHT OF KIDS AND FANS
Košice Airport will open its gates to all registered runners, who will be able to warm up properly just before the run, but the BUBONZ drum or a specially illuminated track will also guarantee a better performance. There is an interesting program also prepared for all visitors, supporters and spectators.
Dj's Party of Radio Košice, the historical exhibition of air objects "How We Grew Wings", stall From Košice to the World and many other attractions.
"We are looking forward to turning the airport terminal into one big playground, there will be a children's playground and animators for the children whose parents will be running and therefore can enjoy the run,"
adds Petráš. Visitors, will not be able to get to the airport's runway, due to security restrictions, however they will connect with the runners live on a large screen.
TEMPORARY PARKING AND SHUTTLE BUS
There are several parking facilities available.
"For all runners, parking facilities are provided at Faurecia, U-shin, or directly at the airport, all the parking areas will be supervised by the City Police, the Police Force of SR and Security of the Košice Airport,"
said Petráš. However, you can also take a bus, the shuttle service will pass between OC Atrium Optima and Košice Airport from 17.00 until necessary. Runners should arrive to the airport in advance, ideally at 19.00 at the latest.
PRESENTATION OF PARTICIPANTS AND REGISTRATION
If you would like to be part of the sport lovers too, do not only run to the finishing line but also to sign up -
the number of runners in 2018 is also limited
. Registration is still possible online at (www.runwayrun.sk) or at the presentation site.
Runners will pick up a startup package with a number, a technical T-shirt for running and a measuring chip on Thursday, Friday or Saturday - in OC OPTIMA in EXIsport shop.
26.04.2018 od 09:00 do 20:00
27.04.2018 od 09:00 do 20:00
28.04.2018 od 09:00 do 15:00

---------